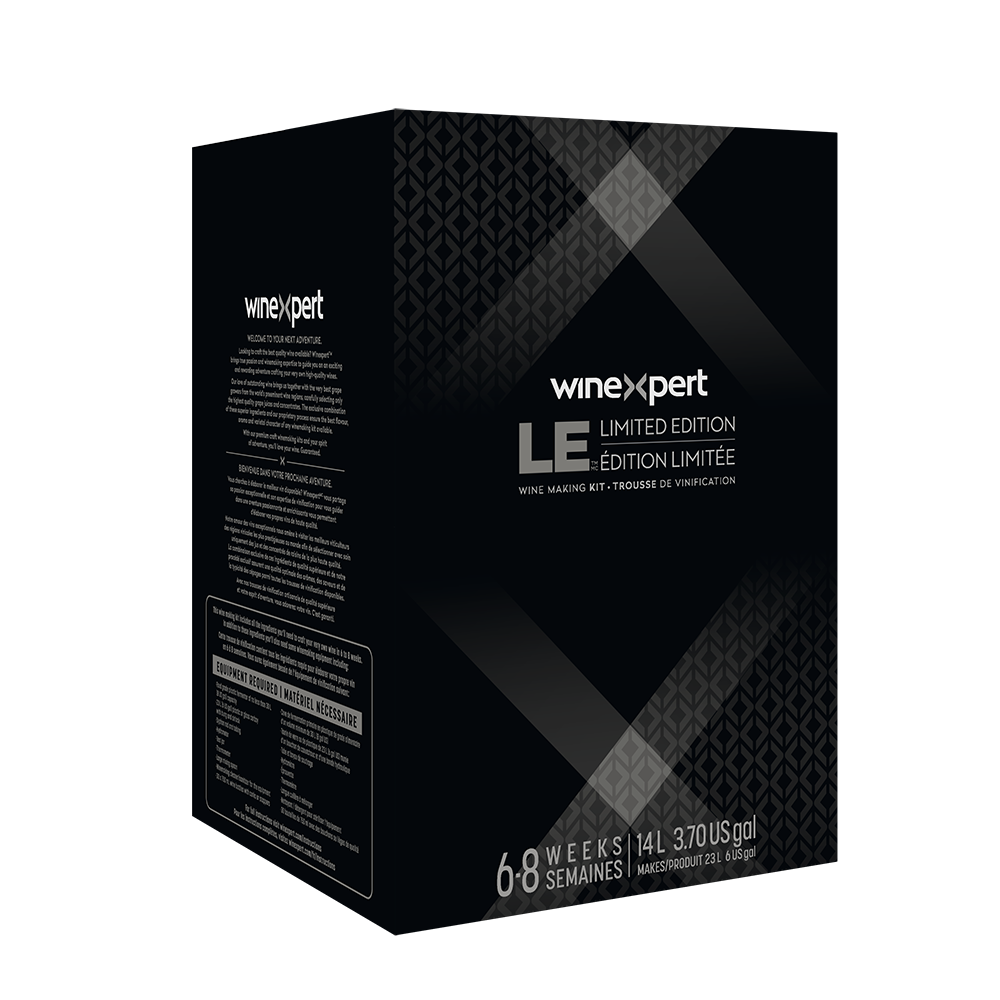 LE22
OUR MOST SOUGHT-AFTER WINE MAKING KIT
AVAILABLE BY RESERVATION ONLY. CONTACT IT'S ABOUT WINE! TO PRE-ORDER YOURS BY NOVEMBER 12, 2022!
6-8 WEEKS
14L | 3.7 US gal
MAKES 23 L | 6 US gal
Bottle labels included.
LIMITED RELEASE. UNLIMITED ADVENTURE.
Explore the world's most distinguished wine growing regions with the Winexpert LE collection; a limited edition series that celebrates the unique, the exciting and the very best – from classic varietals to exceptional blends.
Available by reservation only, this annual showcase features hidden gems in limited quantities. Our most sought-after craft winemaking kit, it's a one-of-a-kind global adventure you don't want to miss.
From this box to your bottle in just 6-8 weeks.
Aglianico Barbera with Grape Skins – Campania, Italy

LE22

Ready in 8 weeks

$

227.00

AVAILABLE APRIL 2023 || ONLY ONE KIT LEFT!! WE ARE OFFERING 20% OFF THIS KIT TO MAKE WAY FOR THE LE23 WINES!

Aglianico is considered one of the three greatest Italian varietals, known to produce refined, complex wines with firm tannin. Its richness and structure make it popular for blending. In contrast, Barbera is popular for producing fruity wines with low tannin and high acidity. The combination of these two Italian varietals creates a balanced blend with big personality. Dominant flavours of black cherry, pepper spice, blackberry and plum are enhanced with licorice, dried herbs, and a light mineral note. This is a wine to sit back, sip, and savour.

FOOD PAIRING SUGGESTIONS: Smoked Brisket, Eggplant Parmesan, Chicken Mushroom Tagliatelle

SIGNATURE FOOD PAIRING: Lasagna Bolognese

BODY: Full  ||  OAK: Heavy  ||  SWEETNESS: Dry  ||  ABV: 14%*

*Alcohol level based on following Winexpert winemaking instructions.

Sweetness:

Body:

Oak:

$223.00 (In Store)

$167.00 (Take Home)