It's one of our favourite times of the year! Winexpert and It's About Wine! are excited to present to you the LE18 Collection, showcasing five amazing wines from five remarkable wine-growing regions.
Continuing the rich and celebrated tradition of excellence and ingenuity, the LE18 collection is a tremendous lineup of much-loved varietals and unique, standout blends. From the bold and sumptuous reds to light, bright, and subtly sweet whites, the LE18 collection offers something for every wine lover.  This year, superior quality juice has been sourced from: Hawke's Bay, New Zealand; Curicó Valley, Chile; Piedmont, Italy; as well as both Lodi and the Sierra Foothills of California, USA. Each and every year the LE series produces five magnificent wines that compliment any wine cellar. Scroll down for complete wine by wine descriptions, including recipes and videos.
LE18 vintages are available by pre-order only for a limited time and will be released on a month to month basis from January through April 2019. Pre-order deadline is December 1, 2018.
The LE18 wines are $193 made in store and $137 kit only.  The LE18 Barbaresco style with grape skins is $209 made in store and $153 kit only.
Submit your order today and avoid missing out on these fantastic wines!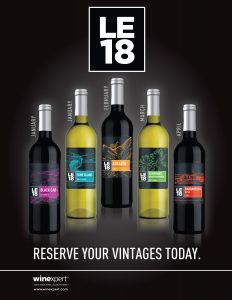 There are three ways to reserve your LE18 wine kits:
Email: info@itsaboutwine.ca
Call: 604-465-9988
In Person: stop by the store and fill out an order form
---
The LE18 Collection:
Available January 2019: Black Cab – Lodi, California, USA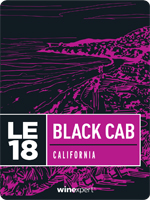 REGION: LODI, CALIFORNIA, USA – Grapes have long been a part of the Lodi landscape, where bountiful wild vines used to grow along riverbanks. From the first planted vines in the mid-1800s, the region has flourished into a world-class producer, with most of the land dedicated to red wine grape varieties. Lodi's grapes benefit from a Mediterranean climate of warm days and cool nights, and a dry growing season which allows growers to precisely manage vine growth through irrigation. Two mountain-fed rivers run through the region bringing rich granite-based minerals to the soil which lend complex flavours to the grapes.
WINE: Black Cab is an intriguing blend of Cabernet Sauvignon and Gamay Noir. Gamay is a light-bodied red wine revered for its floral aromas and earthiness, with tart red berry and lively acidity. Cabernet Sauvignon is a full-bodied red loaded with black fruits, cherry, black pepper and hints of earth. This balanced blend marries the best of both varietals into an energetic medium-bodied beauty. Ripe and round with vibrant acidity and silky-smooth tannins, expect pronounced cherry and juicy red berry flavours rounded out with notes of cassis, spice, subtle earthy undertones and soft vanilla. Pair with grilled red meats, pizza, black peppercorn tuna, black bean stews or roasted pepper dishes.
SWEETNESS: Dry
BODY: Medium
OAK: Medium
ALCOHOL: 12.5%*
LE18 PAIRING: Golden Couscous Stuffed Peppers. CLICK HERE for Recipe.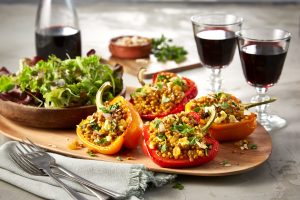 PRICE: $193.00 On-Premise | $137.00 Kit-Only
*Alcohol level based on following Winexpert wine making instructions.
---
Available January 2019: Fumé Blanc – Hawke's Bay, New Zealand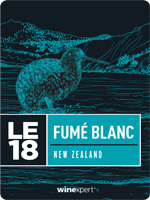 REGION: HAWKE'S BAY, NEW ZEALAND – The sun loves this little bay on the Pacific coast. Hot dry winds, low rainfall and an annual average of 2,220 hours of sunshine make Hawke's Bay one of the warmest, driest areas of the island. Several major rivers running through the region have changed course over the millennia, resulting in a diverse collection of soil types, making it very versatile for viticulture. With these ideal fruit-growing conditions, it's no wonder this is the oldest and one of the most celebrated wine regions in New Zealand.
WINE: Don't let the name fool you – though 'Fumé' means 'smoke', don't expect a smoky white wine. Coined in the 1960s to denote a new and different style of dry, oaked Sauvignon Blanc, the name is derived from Pouilly-Fumé, a popular French appellation that specializes in a similar style wine. Made with lush New Zealand Sauvignon Blanc, this mouth-filling wine delivers a rush of ripe tropical fruit on the palate, with complex layers of gooseberry and melon, bright acidity and hints of grassy mineral notes expertly harmonized with a gentle creamy vanilla oak. Pair with goat cheese, seafood platters and chicken or pasta dishes with creamy sauce and spring vegetables.
SWEETNESS: Dry
BODY: Medium
OAK: Light
ALCOHOL: 13%*
LE18 PAIRING: Orzo with Peas and Goat Cheese. CLICK HERE for Recipe.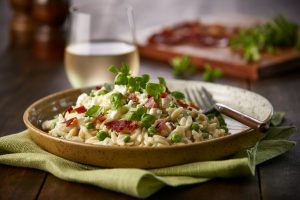 PRICE: $193.00 On-Premise | $137.00 Kit-Only
*Alcohol level based on following Winexpert wine making instructions.
---
Available February 2019: Corazón – Curicó Valley, Chile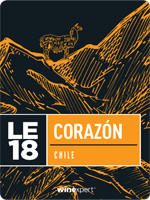 REGION: CURICÓ VALLEY, CHILE – Corazón, Spanish for 'heart', comes from the Curicó Valley located in the heart of Chile. Nestled in between the Andes and Coastal Range mountains, the valley's vineyards reap many benefits from these towering neighbours. Meltwater rivers provide irrigation during dry summer months and deposit rich minerals in the soil, and hot sunny days are balanced by cool air drifting down from the snow-covered peaks of the Andes at night; these daily temperature swings cause the grapes to ripen slowly, allowing for optimal flavour, tannin and colour development.
WINE: This wine is a charismatic blend of Carménère, Cabernet Franc, Syrah, and Pais. Carménère, the signature Chilean grape, delivers jammy raspberry and herbal spice. Cab Franc brings bold cherry, juicy berry and acidity, while Syrah lends intense black fruit flavours and tannin. Pais, widely planted in Chile for centuries but little-known elsewhere, rounds out the blend with rustic red fruit and crisp acidity. This juicy blend is full of expressive black and red berries, surrounded by cherry and tart plum notes in harmony with underlying oak, bright acidity and smooth polished tannins. Pair with rosemary lamb chops, beef skewers, Portobello mushroom burgers and aged cheddar.
SWEETNESS: Dry
BODY: Medium-Full
OAK: Medium
ALCOHOL: 13%*
LE18 PAIRING: Smoky Beef Koftas. CLICK HERE for Recipe.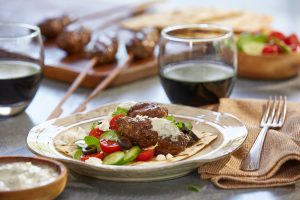 PRICE: $193.00 On-Premise | $137.00 Kit-Only
*Alcohol level based on following Winexpert wine making instructions.
---
Available March 2019: Symphony Gewürztraminer – Sierra Foothills, California, USA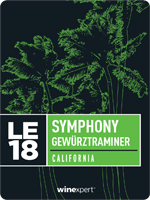 REGION: SIERRA FOOTHILLS, CALIFORNIA, USA – The Sierra Foothills were the center of the California Gold Rush in the mid-1800s. European immigrants flocked here seeking their fortunes and planted the area's first vineyards as they settled into life in the Wild West. Rustic and remote compared to the state's other regions – Gold Rush ghost towns still dot the countryside – growers take full advantage of the varied terrain of the foothills, utilizing the slopes to maximize sun exposure. The shallow soil is mainly decomposed granite, shale or volcanic matter; not particularly fertile ground, nor does it retain much moisture in a region where water can be scarce. These harsh sounding conditions are actually good news for grapes as the vines yield less fruit, resulting in more concentrated flavours.
WINE: Symphony is one of California's hidden gems bringing peach, apple and tropical fruit flavours, it is a natural and perfect complement to Gewürztraminer's characteristic lychee notes. An aromatic blend with floral and juicy peach aromas, this o-dry wine deliciously combines lush tropical and stone fruit flavours. Crisp and bright with expressive fruit and subtle sweetness, this wine really sings when chilled. A beauty to sip on its own, or a perfect companion to spicy Asian dishes, zesty barbecue or baked ham.
SWEETNESS: Off-Dry
BODY: Light-Medium
OAK: None
ALCOHOL: 12%*
LE18 PAIRING:  Mango Curry Chicken Thighs  CLICK HERE for Recipe.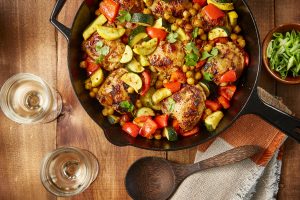 PRICE: $193.00 On-Premise | $137.00 Kit-Only
*Alcohol level based on following Winexpert wine making instructions.
---
Available April 2019: Barbaresco with Grape Skins – Piedmont, Italy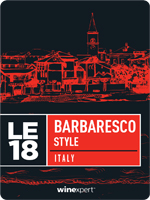 REGION: PIEDMONT, ITALY – Piedmont boasts a rich cultural and winemaking history going back to the Middle Ages and is home to Italy's most revered red wines. Located at the foot of the Alps, the region's hilly landscape is lush with valleys full of vines, with many sunny slopes reserved for the prized Nebbiolo grape. The continental climate sees long, hot summers but thick morning fogs commonly roll through the valleys bringing cooler air. This rhythm of rising and falling temperatures slows the ripening of the Nebbiolo grapes, resulting in aromatic wines high in acid, alcohol and tannin – prized attributes of the Barbaresco wine style.
WINE: Widely regarded as one of Italy's top wines, the Barbaresco style is undeniably delicious. Made with Nebbiolo, Piedmont's most respected and most loved red wine grape, this wine exudes intense aromas of juicy cherry combined with toasty oak and spice. The sumptuous palate seduces with cherry and ripe red berries, licorice, baking spice, leather and earthy notes. It boasts balance and structure with firm velvety tannins, a full body and a beautiful long-lasting finish. Pair with grilled or braised meat, mushroom risotto, Ragu Bolognese and mature cheeses.
SWEETNESS: Dry
BODY: Full
OAK: Medium-Heavy
ALCOHOL: 14%*
LE18 PAIRING: Braised Beef Short Ribs. CLICK HERE for Recipe.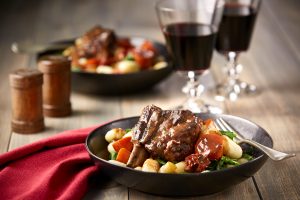 PRICE: $209.00 On-Premise | $153.00 Kit-Only
*Alcohol level based on following Winexpert wine making instructions.
---
Don't Miss Out. Reserve Your LE18 by Pre-Ordering Today:
Email: info@itsaboutwine.ca
Phone: 604-465-9988
In Person: Stop by the store and fill in the order form.
Deadline to pre-order is December 1, 2018.