Weddings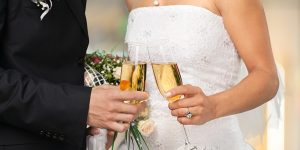 Your wedding is one of the most significant events in your life…
It's a day you want to be absolutely perfect…
Choose wine that fits the occasion.
It's About Wine has many years of experience helping brides and grooms and would love to be part of your special day. We can assist you in providing wine for:
Receptions
Take home table gifts for your guests
Bridal showers
Bachelorette/Bachelor parties
Gift openings
Rehearsal dinners
The process is quick and easy: simply start your wine and come back to bottle. We'll take special care of everything in between so you can remain worry-free. Weddings are costly so making your own wine is a great way to actually save money. You will receive top quality at a fraction of the price of commercially produced wine from the liquor store. The best part is our prices do NOT inflate when the word "wedding" is mentioned.
Bottling the wine can be an enjoyable experience in itself. A great way to involve your wedding party, family and friends; you can make your bottling appointment a fun and memorable event!
Here is a link to our newest website, MyWeddingWine.ca to provide brides with ideas and inspiration on how custom made wine is perfect for weddings. This how-to guide covers everything from making, using, and labeling custom made wine as well as the legalities of serving it at their wedding.
Please contact us at any time to discuss your wedding wine needs. We look forward to the opportunity to help make your wedding beyond extraordinary.
If you need help finding the right Marriage Chaplain we recommend Brent & Tracy Sheppard. Combined they have over 20 years experience and have married over 2000 couples. Find out more information at  www.heyrev.com.