You can bring worldly adventures to your own home with the LE23 Collection. It's About Wine! and Winexpert are excited to bring you this year's showcase of five amazing wines from premier vineyards around the world.
There's a reason the Winexpert Limited Edition™ collection is our most sought-after craft winemaking kit. Sure to compliment any wine cellar, LE wines have a rich and celebrated tradition of excellence and ingenuity. Every year this exceptional series consists of five magnificent wines that explore the world's most distinguished wine growing regions, offering unique and exciting wines from classic varietals to exceptional blends. Whether a bold, sumptuous red is your preferred choice or a light, bright, subtly sweet white is more up your alley, the LE23 collection offers something for every wine lover (scroll down for complete wine by wine descriptions). Winexpert's search for superior quality juice spans the globe and the upcoming lineup will take us from Valencia, Spain to Italy to Lodi, California to Provence, France to Australia.
This annual program features hidden gems in limited quantities and is available by reservation only.  These one-of-a-kind, limited release wines will provide you with unlimited adventure that you won't want to miss. Keep reading to see this year's stellar line up and be sure to submit your pre-order to It's About Wine! by Saturday, November 11, 2023. Keep scrolling for all the details. And click the image below to watch the introduction video.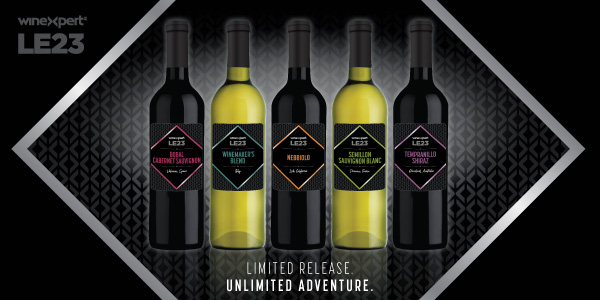 LE23 vintages are available for a limited time and by pre-order only. The wines are set to be released on a month to month basis from December 2023 through April 2024 and go from wine kit box to your bottles in just six to eight weeks. No deposit is required; however, to be able to continue this we ask that you honour your entire pre-order commitment. Pre-order deadline is Saturday, November 11, 2023. All LE23 wine kits produce approximately 23L (roughly thirty 750ml bottles) of finished product and are priced at $209.00 Made On-Premise and $153 Kit-Only (Grape Skin Kit is $226.00 Made On-Premise and $170 Kit-Only).
There are 3 ways to reserve your LE23 wines:
Email info@itsaboutwine.ca
Phone 604-465-9988
In person – come in to the store and fill in the order form
---
The LE23 Collection:
December 2023: Bobal Cabernet Sauvignon – Valencia, Spain
THE WINE: This Spanish red combines Bobal and Cabernet Sauvignon to deliver a medium-bodied wine with a fruity palate and silky tannin. Aromas of black fruit, mild spice, and subtle toasty oak. The first sip shows bright flavours of plum, cassis, and cherry joined by notes of licorice, cocoa, oak, and earthy nuances. Fresh acidity, soft tannin, and a light spicy sensation complete this polished blend.
THE REGION: Bobal is indigenous to Spain, where it is the 2nd most planted red wine grape. Its thick skin and drought resistance make it well suited to the subtropical Mediterranean climate of hot, dry summers. It is mostly found in Valencia on Spain's sunny east coast. The region is cooled slightly by sea breezes, and grapes are often grown in altitudes up to 1100 meters above sea level. Bordeaux varieties like Cabernet Sauvignon also perform well here and are often blended with indigenous Spanish grapes.
PRICE: $209.00 Made on Premise || $153.00 Kit only
SWEETNESS: DRY  ||  OAK: MEDIUM  ||  BODY: MEDIUM  ||  ALCOHOL: 13.5%
FOOD PAIRING SUGGESTIONS: Valencian paella, chorizo and Manchego flatbread, stew
SIGNATURE FOOD PAIRING: Best Skillet Steak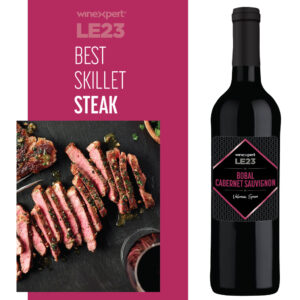 CLICK ABOVE IMAGE FOR THE RECIPE
---
January 2024: Winemaker's Blend – Italy
THE WINE: The varietals in our Winemaker's Blend play off each other to create a crisp off-dry wine with a tapestry of vibrant fruit flavours. Pinot Grigio leads with lush peach and apple flavours. Riesling adds aromatics, a shot of sweetness, and amplifies fresh acidity. Vermentino plays up the citrus character, while Verduzzo brings tropical notes to the background. A touch of Trebbiano rounds out the orchard fruit flavours and adds a fresh mineral accent.
THE REGION: This cunning blend pulls choice varietals from the four corners of Italy, showcasing the best the country has to offer: Sicily in the southwest, where climate and geography make near perfect growing conditions; Tuscany on the northwest coast, one of the world's most famous wine regions; Veneto on the northeast coast where hot summers are tempered by the Adriatic Sea, and finally Puglia on the southeast coast, where the surrounding seas provide balance to the dry heat helping grow mature and fruity grapes.
PRICE: $209.00 Made on Premise || $153.00 Kit only
SWEETNESS: OFF-DRY  ||  OAK: NONE  ||  BODY: LIGHT-MEDIUM  ||  ALCOHOL: 12%
FOOD PAIRING SUGGESTIONS: rich & creamy mac n cheese, maple glazed ham, spiced nuts
SIGNATURE FOOD PAIRING: Pancetta Egg Pasta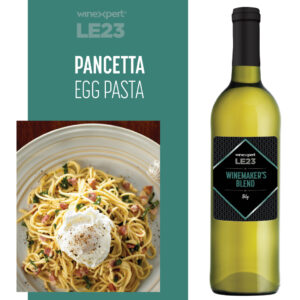 CLICK ABOVE IMAGE FOR THE RECIPE
---
February 2024: Nebbiolo – Lodi, California, USA
THE WINE: The regal Italian red you know and love with a bit of laid-back California charm. Nebbiolo maintains its strong tannin on North American soil but reins in some boldness, showing more voluptuous fruit and floral undertones. Aromas hint at rose and violet with notes of earth and spice. Cherry and raspberry flavours are forefront, while licorice, plum and chalky earth notes add depth. A gratifying wine with strong structure and balance thanks to Nebbiolo's characteristic high tannin and acidity.
THE REGION: Nebbiolo does well in Lodi, situated in the middle of California's Central Valley. The Mediterranean climate is tempered in part by cool breezes blowing inland from the San Francisco Bay area, which promotes the grape's natural acidity. Two mountain-fed rivers run through the region bringing rich granite-based minerals to the soil, lending complex flavours. These mineral rich sandy soils, in conjunction with the dry growing season, encourage more concentrated flavours.
PRICE: $209.00 Made on Premise || $153.00 Kit only
SWEETNESS: DRY  ||  OAK: HEAVY  ||  BODY: FULL  ||  ALCOHOL: 14%
FOOD PAIRING SUGGESTIONS: braised short ribs, caponata, spiced lamb tagine, white truffle fettucine
SIGNATURE FOOD PAIRING: Prosciutto & Olive Pizza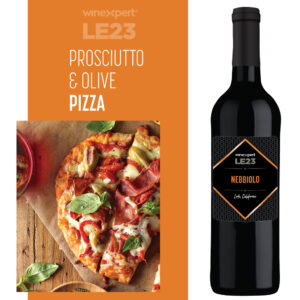 CLICK ABOVE IMAGE FOR THE RECIPE
---
March 2024: Semillon Sauvignon Blanc – Provence, France
THE WINE: This White Bordeaux style wine is a classic French blend of Semillon and Sauvignon Blanc. Citrus and grassy aromas lead to a gorgeous palate with refreshing grapefruit and lemon/lime flavours. Gooseberry, passionfruit, and green apple notes come through, hinting at honeysuckle and lemon peel. Serve lightly chilled to emphasize the vibrant acidity and prominent citrus flavours of this crisp dry white.
THE REGION: Provence lies on the southeast tip of France and vineyards in this small coastal region are all within 60kms of the Mediterranean Sea. Summers are warm with abundant sunshine. Coastal breezes help moderate the temperature and the strong mistral wind keeps skies clear and grapes dry, protecting against disease. Soils vary across the region with white wine grapes generally planted in areas with rich limestone and shale deposits.
PRICE: $209.00 Made on Premise || $153.00 Kit only
SWEETNESS: DRY  ||  OAK: NONE  ||  BODY: MEDIUM  ||  ALCOHOL: 13%
FOOD PAIRING SUGGESTIONS: sushi, asparagus risotto, crab cakes
SIGNATURE FOOD PAIRING: Shrimp Curry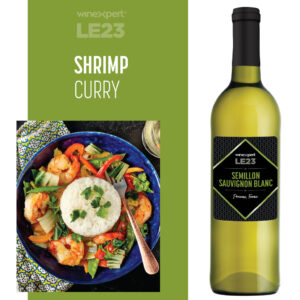 CLICK ABOVE IMAGE FOR THE RECIPE
---
April 2024: Tempranillo Shiraz with Grape Skins – Riverland, Australia
THE WINE: Tempranillo and Shiraz are exceptional blending partners creating a poignant blend abound with rich fruit and spice. Aromas of red berry, chocolate, and peppery spice set the tone for a palate packed with flavours of black cherry, raspberry, blueberry, and plum. Ripe tannin and rich spice lend to the lush mouthfeel, while layered notes of milk chocolate play off savoury elements of tobacco and licorice. A blockbuster example of how these two flavourful grapes amplify each other.
THE REGION: Australia has long been a powerhouse of Shiraz, but it's only recently that Tempranillo plantings have surged in the country. In the Riverland, the warm Mediterranean climate and long sunny days bring out more of Tempranillo's generous black fruit flavours and spice character. The Murray Darling River winds through the region providing relief from the hot South Australian sun, vital access to water for irrigation, and contributes to the region's fertile soils.
PRICE: $226.00 Made on Premise || $170.00 Kit only
SWEETNESS: DRY  ||  OAK: HEAVY  ||  BODY: FULL  ||  ALCOHOL: 14%
FOOD PAIRING SUGGESTIONS: smoked meat sandwiches, tourtière, carne asada fajitas
SIGNATURE FOOD PAIRING: Smoky Chorizo & Chicken Chili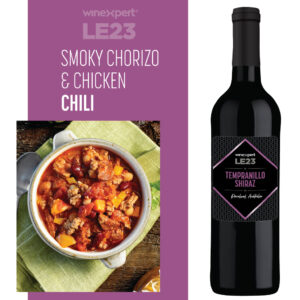 CLICK ABOVE IMAGE FOR THE RECIPE
---
Don't Miss Out. Reserve Your LE23 by Pre-Ordering Today:
Email: info@itsaboutwine.ca
Call: 604.465.9988
In Person: Come into the store and fill out the pre-order form
LE23 Pre-order deadline is Saturday, November 11, 2023.
---
What is LE?
Each year Winexpert produces a limited quantity of five fabulous and unique varieties from around the world that are released monthly from December through April. LE – or Limited Edition – wines vary year to year and can be one or a combination of the following: unique blends, hot industry trends, highly sought after regions/vineyards; and scarce or hard to obtain grapes/juice. One thing remains from one year to the next, LE collections always produce wine of superior quality.
LE vintages are available only during the month of their release. They are limited in supply and are so immensely popular that they can be acquired by pre-order only. The LE program has built a reputation of delivering exceptional, award-winning wines year after year. This speaks to the high quality wines that these very special wine kits produce and that's why LE continues to be the biggest most successful limited release brand. Each and every year, LE wines are awarded medals at the WineMaker International Amateur Wine Competition; a testament to the superior quality of the LE program. The LE23 collection will continue this tradition; so be sure to make your wine cellar an award-winning one. Contact It's About Wine! for any further information or to place your pre-order today.