An Old Favourite Returns! And it's brought a friend!
Chocolate Raspberry Dessert Wine and Vanilla Bourbon Dessert Wine are going to be available this fall for a VERY limited time. 
The wine kits will be in the store starting September 22 which is perfect timing to have these delicious treats ready for the Holidays. Bottles of these limited offerings are perfect giveaways for friends, family, neighbours, and party hosts. They make for a classy gift to give to clients and customers.
You don't want to miss out on this fabulous dessert wine. Order yours now! Call us, email us or stop by the store.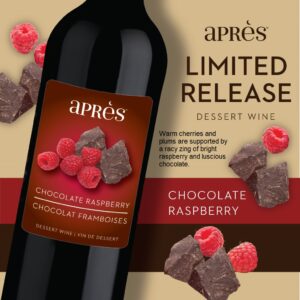 This multiple gold-award winning wine is bursting with rich, intense flavours and aromas. The traditional dessert wine character of warm, rounded cherries and plums is supported by a racy zing of bright raspberry. Perfumed and gently tart, with a luscious liquid chocolate rush in the middle of the palate it finishes with beguiling dark, bittersweet aromas of coffee, vanilla, and toast, all the way to a long, rich finish. Excellent on its own or with any dessert, or serve with toasted nuts or shortbread. Superb within a few months, this wine will age gorgeously.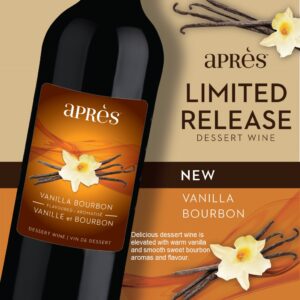 A new limited release for 2022, Après Vanilla Bourbon Flavoured Dessert Wine is rich and smooth. Notes of warm, rounded cherries and plums that exemplify the traditional dessert wine character are elegantly elevated with warm vanilla and smooth sweet bourbon aromas and flavour. Excellent on its own or with any dessert, this wine will drink amazingly within a few months and will age with the best of them.
Serve with dark chocolate for a decadent treat or pour over vanilla ice cream with shavings of chocolate for an amazing dessert. Sip after dinner or informally around the fire or Christmas tree. Sweet, soothing comfort for those cold Fall and Winter evenings at home.
This delightful treat makes great gifts. Perfect for hostess gifts, clients and customers, teachers, Christmas, pretty much any occasion!
The kit makes 30 each 375ml bottles or 15 each 750ml bottles.
Made in store price is $155 and includes labels, shrink wraps and corks. Kit only price is $99.