You can bring worldly adventures to your own home with the LE22 Collection. It's About Wine and Winexpert are excited to bring you this year's showcase of five amazing wines from premier vineyards around the world.
There's a reason the Winexpert Limited Edition™ collection is our most sought-after craft winemaking kit. Sure to compliment any wine cellar, LE wines have a rich and celebrated tradition of excellence and ingenuity. Every year this exceptional series consists of five magnificent wines that explore the world's most distinguished wine growing regions, offering unique and exciting wines from classic varietals to exceptional blends. Whether a bold, sumptuous red is your preferred choice or a light, bright, subtly sweet white is more up your alley, the LE22 collection offers something for every wine lover (scroll down for complete wine by wine descriptions). Winexpert's search for superior quality juice spans the globe and the upcoming lineup will take us from Washington State to France to Argentina to Lodi California to Italy.
This annual program features hidden gems in limited quantities and is available by reservation only. These one-of-a-kind, limited release wines will provide you with unlimited adventure that you won't want to miss. Keep reading to see this year's stellar line up and be sure to submit your pre-order to It's About Wine by Saturday, November 12, 2022:
Click on the image below to watch the video that describes the wines.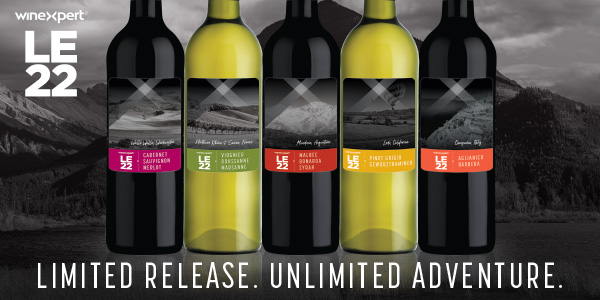 LE22 vintages are available for a limited time and by pre-order only. The wines are set to be released on a month to month basis from December 2022 through April 2023  No deposit is required; however, to be able to continue this we ask that you honour your entire pre-order commitment. Pre-order deadline is Saturday, November 12, 2022. All LE22 wine kits produce approximately 23L (roughly thirty 750ml bottles) of finished product and are priced at $205.00 On-Premise and $149 Kit -Only (Grape Skin Kits are $223.07 On-Premise and $168 Kit-Only). Submit your reservation today and avoid missing out on these fantastic wines!
There are three ways to reserve your LE22 wine kits:
Email: info@itsaboutwine.ca
Call: 604-465-9988
In Person: Fill out your order form while in the store
---
The LE22 Collection


December 2022: Cabernet Sauvignon Merlot – Walla Walla, Washington, USA
**SOLD OUT**
Click on the image to watch the video.
THE WINE: A classic combination. Robust Cabernet Sauvignon provides structure and black fruit flavours while complementary Merlot softens Cab's high tannin and acidity and adds juicy fruit and texture. The result is a beautiful blend showing aromas of black currant with hints of dried herb and toasted almond. The palate is stacked with layers of deep cherry, black fruit, baking spice and mocha. A concentrated and seamless blend with silky tannin.
THE REGION: Walla Walla sits on Washington's southern border, dipping slightly into Oregon. Cab and Merlot are widely planted here, where the long growing season allows these grapes to reach optimal ripeness. Hot days develop ripe fruit flavours while cool nights help lock in acidity, keeping fruit in focus. Cab grown here is known for being fruitier and less astringent and the Merlot shows a more boisterous body and rich fruitiness.
SWEETNESS: DRY  ||  OAK: MEDIUM  ||  BODY: MEDIUM-FULL  ||  ALCOHOL: 13.5%
FOOD PAIRING SUGGESTIONS: Pepper Crusted Steak, Beef or Mushroom Stroganoff, Your Favourite Burger
SIGNATURE FOOD PAIRING: Pecan & Parmesan Stuffed Mushrooms

PRICE: $205.00 On-Premise | $149.00 Kit-Only
---

January 2023: Viognier Roussanne Marsanne – Northern Rhône & Savoie, France
Click on the image to watch the video.
THE WINE: A beautiful blend composed of the only three white wine grapes permitted to be grown in the Northern Rhone. It draws you in with inviting aromas of stone fruit, honeysuckle, and soft herbal notes.  The palate is rich with expressive peach, apricot, and Meyer lemon flavours, just hinting at honeysuckle and brioche. This textured wine leans to the fuller side, but stays smooth and fresh with elegant balance.
THE REGION: The small and prestigious Northern Rhône region experiences a cooler climate than its southern counterpart, due to the mistral wind that brings in colder air. The tiny region of Savoie sits to the west bordering Switzerland and is the only alpine wine region in France. Vineyards are often planted at elevations between 250-550 metres but have a uniquely warm microclimate thanks to the southern sun exposure.
SWEETNESS: DRY  ||  OAK: NONE  ||  BODY: MEDIUM-FULL  ||  ALCOHOL: 13.5%
FOOD PAIRING SUGGESTIONS: Grilled Pork or Chicken, Antipasti, Pasta with Cream Sauce
SIGNATURE FOOD PAIRING: Smoked Salmon Pinwheels
PRICE: $205.00 On-Premise | $149.00 Kit-Only
---

**SOLD OUT**
February 2023: Malbec Bonarda Syrah with Grape Skins – Mendoza, Argentina
Click on the image to watch the video.
THE WINE: Malbec leads the way providing structure and black fruit. Bonarda builds on juicy fruit flavours and softens tannin, while Syrah lends savoury spice character. This exciting blend shows black cherry and raspberry aromas infused with subtle clove spice, leading to an expressive palate of bright red fruit and ripe dark berry, backed by soft spice, vanilla and dark chocolate notes. Structured and zesty, with firm tannin and food-friendly acidity.
THE REGION: Sitting at the foot of the Andes and an average of 900metresabove sea level, Mendoza boasts some of the highest vineyards in the world. Altitude is key to Mendoza's quality; the hot, semi-arid climate gives the grapes the sun and heat they need to fully ripen, while the cool mountain nights drastically slow ripening thereby preserving acidity. The dry, rocky mountain soils force the vines to work harder for nutrients, producing smaller, more concentrated grapes.
SWEETNESS: DRY  ||  OAK: HEAVY  ||  BODY: FULL  ||  ALCOHOL: 14%
FOOD PAIRING SUGGESTIONS: Pulled Pork Tacos, Rib Eye Steak with Chimichurri Sauce, BBQ Chicken Pizza
SIGNATURE FOOD PAIRING: Gourment Blue Burger

PRICE: $223.00 On-Premise | $167.00 Kit-Only
---

March 2023:
Pinot Grigio Gewürztraminer – Lodi, California, USA
**SOLD OUT**
Click on the image to watch the video.
THE WINE: This unique duo creates a juicy and refreshing wine with a kiss of sweetness and loads of character. Alluring aromas of stone fruit and lychee precede a surge of juicy peach and bright citrus flavours. A second sip starts to open the palate revealing underlying flavours of lychee, cantaloupe, and light notes of ginger spice and lemon zest. A must-have for any white wine lover.
THE REGION: Located in the middle of California's Central Valley, Lodi has a classic Mediterranean climate of warm days and cool nights and benefits from cool breezes blowing inland from the San Francisco Bay area-a climate that helps lend grapes a refreshing natural acidity. The mineral rich, sandy soils and dry growing season allow growers to precisely manage vine growth through irrigation, producing more concentrated flavours.
SWEETNESS: OFF-DRY  ||  OAK: NONE  ||  BODY: MEDIUM  ||  ALCOHOL: 12.5%
FOOD PAIRING SUGGESTIONS: Spicy Tuna Rolls, Roasted Vegetables, Brie & Fig Crostini
SIGNATURE FOOD PAIRING: Peanut Chicken Satay

PRICE: $205.00 On-Premise | $149.00 Kit-Only
---

April 2023:
Aglianico Barbera with Grape Skins – Campania, Italy
Click on the image to watch the video.
THE WINE: Aglianico is considered one of the three greatest Italian varietals, known to produce refined, complex wines with firm tannin. Its richness and structure make it popular for blending. In contrast, Barbera is popular for producing fruity wines with low tannin and high acidity. The combination of these two Italian varietals creates a balanced blend with big personality. Dominant flavours of black cherry, pepper spice, blackberry and plum are enhanced with licorice, dried herbs, and a light mineral note. This is a wine to sit back, sip, and savour.
THE REGION: Winemaking is an ancient art here with history dating back to the 12th century BC. Sitting on the southwestern coast of Italy, Campania has 350kms of coastline and a mountainous interior comprised of the Campanian volcanic arc, which includes Mount Vesuvius. The long growing season is hot and dry with abundant sunshine; breezes blowing from the Tyrrhenian Sea and temper the heat, promoting acidity in the grapes. The volcanic soils encourage high tannin.
SWEETNESS: DRY  ||  OAK: HEAVY  ||  BODY: FULL  ||  ALCOHOL: 14%
FOOD PAIRING SUGGESTIONS: Smoked Brisket, Eggplant Parmesan, Chicken Mushroom Tagliatelle
SIGNATURE FOOD PAIRING: Lasagna Bolognese

PRICE: $223.00 On-Premise | $167.00 Kit-Only
---
Don't Miss Out. Reserve Your LE22 by Pre-Ordering Today:
email info@itsaboutwine.ca
call us at 604-465-9988
Pre-Order Deadline is November 12, 2022