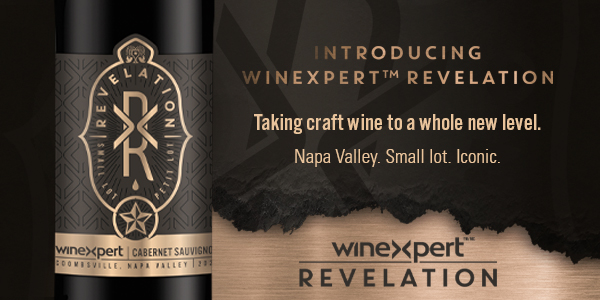 **SOLD OUT FOR THIS YEAR! WATCH FOR MORE IN 2024**
A new small lot craft wine offering coveted Napa Valley Cabernet Sauvignon and an elevated wine experience.

WELCOME TO AN EXCLUSIVE WINE ADVENTURE.
As passionate winemakers committed to exploration and the pursuit of excellence, Winexpert is excited to bring you this craft winemaking Revelation – a carefully curated and skillfully crafted wine kit offering an elevated wine experience to enlighten the senses.
This is wine of the highest caliber, using only the best ingredients, available only in very limited quantities, or "small lots". With this level of excellence and exclusivity, you'll love your wine. Guaranteed.
Winexpert set out to create a true trophy wine: supreme quality, small lot, ultra-exclusive. Something that pushed our boundaries and challenged our current best. We gave our winemakers carte blanche and one simple direction – make the best red wine we possibly can.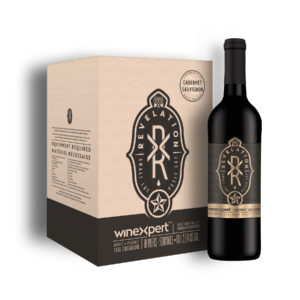 The result is a revered varietal from a prestigious region, and an innovative craft wine kit that broke the mold.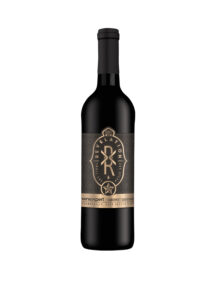 AN ICONIC WINE FROM THE CROWN JEWEL OF CALIFORNIA WINEMAKING.
The Wine: Revelation Napa Valley Cabernet Sauvignon is dark and savoury, showing impressive depth of character. Earthy sage and black fruit aromas. Black fruit flavours are woven with layers of mocha, tobacco leaf, graphite and dried herb, all set against a backbone of ripe tannins. Rich and full bodied with a long dynamic finish.
Food Pairings: Big and bold with loads of black fruit flavours, this is best matched with equally big, rich flavours, or foods high in fat and umami flavours. Try marinated ribeye steak, angus burger, mushroom pizza, braised beef short ribs, or lamb. For charcuterie, feature cheeses like gouda, aged cheddar, or gorgonzola.
The Region: Coombsville, Napa Valley, California – Napa Valley is the crown jewel of California winemaking and a true titan of Cabernet Sauvignon. With an ideal climate and rich soils, the lush valley offers near perfect growing conditions, and is indisputably one of the best places for Cabernet Sauvignon. The tiny region offers a rich selection of iconic and trophy wines that are highly sought after by collectors and consumers. Coombsville, a sub AVA (American Viticultural Area) of the Napa Valley, received its designation in 2011 and is regarded as the future of Napa Cabernet. It is distinguished from other AVAs by its slightly cooler climate and its mix of soils which include mineral-rich volcanic ash and well-draining river rock. The cooler conditions slow ripening, allowing the grapes more hang time and letting flavours develop. Coombsville Cab also produces smaller berries, giving a greater flavour concentration and producing extremely smooth, rich, and polished tannins. Coombsville wines are noted for their typically softer but still significant tannin, which provide excellent structure and mouthfeel, along with underlying layers of earth and mineral flavours.
SMALL BATCH less than 1800 wine kits available.
10L makes 11.5L Alcohol 14%  Full body Heavy oak
Jam-packed with precious Napa Cabernet Sauvignon while maintaining an accessible price point.
Made in store price is $225. Kit only $169.
Ready to bottle in 8 weeks.

EXCELLENT VALUE
Bottles of Napa Valley Cabernet Sauvignon typically range from $40-$50, with higher end wines selling for $100+ per bottle.
At the equivalent of around $15 per bottle (made on premise), Revelation offers consumers a high end Napa Valley Cab Sauv at excellent value.
A minimum of 6 months bottle aging is recommended, with a sweet spot of between 12 and 18 months from bottling for drinking. Winexpert will be running post-bottle shelf life trials at 3, 6, 9, 12, 18, and 24 months in order to conduct tastings at regular intervals to determine optimal aging, which may influence aging recommendations for Revelation going forward.
AVAILABLE THIS OCTOBER
This is for the collectors, the afficionado. This is for red wine lovers who want the best and don't mind paying more to get it. If that's YOU don't hesitate – contact us today and reserve yours!
Call us at 604-465-9988 or email us at info@itsaboutwine.ca or stop by the store and reserve it.