All the LE19 wines are now sold out! Thank you to everyone that participated this year, the wines are fantastic.  All the links to the recipes and videos are still active. We are leaving the information on the website until LE20 is announced. Stay tuned for all the details on LE20 in September!
We are working on getting all the info onto our website. In the meantime here is the link to Winexpert's website with all the information https://winexpert.com/product/?brand%5B%5D=le20&brand-desc=1
Here is a quick preview of the 5 fantastic LE20 wines! Watch for more details in the coming days!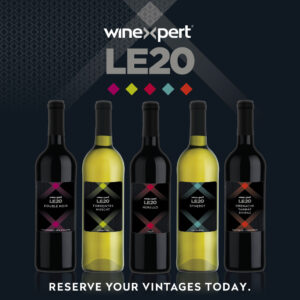 It's About Wine! and Winexpert proudly present to you the 30th Anniversary LE19 Collection, showcasing five amazing wines from premier wine growing regions spanning the globe.
Continuing the rich and celebrated tradition of excellence and ingenuity, the LE19 collection is a tremendous lineup of much-loved varietals and unique, standout blends. From bold and sumptuous reds to light, bright, and subtly sweet whites, the LE19 collection offers something for every wine lover (scroll down for complete wine by wine descriptions). This year, superior quality juice has been sourced across the globe: from the USA to Italy to Spain to South Africa to all around the Pacific Rim. Each and every year the LE series produces five magnificent wines that compliment any wine cellar.
LE19 vintages are available for a limited time and by preorder only. The wines are set to be released on a month to month basis from December 2019 through April 2020.  No deposit is required; however, to be able to continue this we ask that you honour your entire pre-order commitment. The preorder deadline is now over. All LE19 wine kits produce approximately 23L (roughly thirty 750ml bottles) of finished product and are priced at $193 made on premise, $137 kit only. The April red is a grape skin wine priced at $209 made on premise, $153 kit only.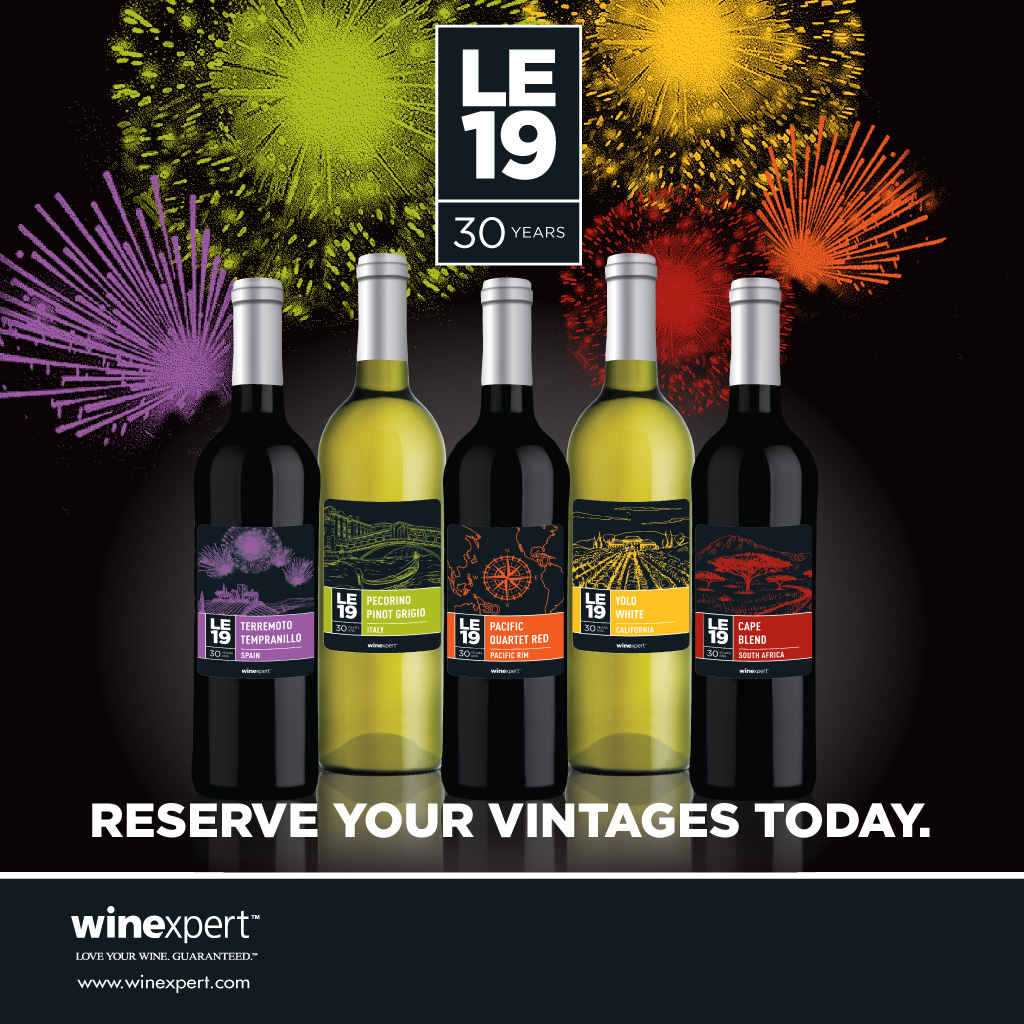 ---
The LE19 Collection:

Available December 2019: Terremoto Tempranillo – Spain **SOLD OUT**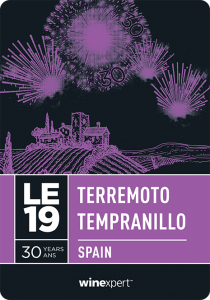 REGION: VALENCIA, SPAIN ~ Valencia, a sunny region located in the heart of Spain's east coast, is where one can find the Tempranillo grape. The Mediterranean climate of mild winters and very warm summers, combined with the gently sloping vineyards and permeable subsoils, creates the perfect growing conditions for this savoury grape. Valencia is also home to the famous annual Las Fallas festival which welcomes the arrival of spring with fireworks, pyrotechnics and colourful, giant paper-maché figures. Every day during the festival at 2pm, the city is filled with the sound of firecrackers, ultimately ending in the extraordinary finale called the Terremoto!
WINE: The Tempranillo grape's thick skin gives the wine a deep ruby colour and moderate tannins. Medium-bodied and savoury, Terremoto Tempranillo has flavours of cherry, dried fig and cedar, with hints of leather and spices. Whether you're celebrating a big occasion like your 30th anniversary, complete with fireworks, or just toasting the end of a workday, this wine is the perfect accompaniment. Pair with braised meats, chorizo sausage or roasted eggplant.
LE19 PAIRING: Manchego Stuffed Mini Peppers. Click here for recipe.
SWEETNESS: Dry   ||   BODY: Medium   ||   OAK: Medium   ||   ALCOHOL: 13.5%*
PRICE: $193.00 On-Premise | $137.00 Kit-Only
*Alcohol level based on following Winexpert winemaking instructions.
---
Available January 2020: Pecorino Pinot Grigio – Italy **SOLD OUT**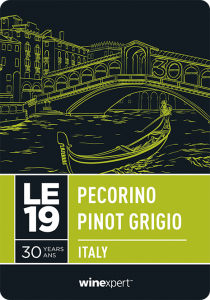 REGION: ABRUZZO & VENETO, ITALY ~ The Pecorino grapes are sourced from Abruzzo, Italy which is a mountainous region located along the Adriatic Sea. It is also home to the highest point on mainland Italy, Corno Grande. Veneto is located in northeast Italy and is the source region for the Pinot Grigio. The Influence of the nearby Alps provides a cooler microclimate where fresh, crisp white wines flourish.
WINE: Pinot Grigio was originally established as Pinot Gris in Burgundy and although most famous in Alsace, France, made its way to Switzerland in the 1300s and eventually to Northern Italy where Pinot Grigio was born. Today it is Italy's most popular grape. Pecorino has a bit of a different history; thought to be extinct in the mid 20th century, it was rediscovered in the 1980s by a local producer who then took cuttings and propagated them resulting in this grape's resurgence. Blending Pinot Grigio, the most popular Italian white wine grape, with the lesser known Pecorino grape results in a delicate white wine with high acidity, lemon, lime, and honeysuckle flavours, and an elegant floral aroma. Pair with steamed mussels, seafood risotto, and vegetarian spring rolls.
LE19 PAIRING: Lemon Garlic Shrimp & Farro Bowls. CLICK HERE for Recipe.
SWEETNESS: Dry   ||   BODY: Medium   ||   OAK: None   ||   ALCOHOL: 12.5%*
PRICE: $193.00 On-Premise | $137.00 Kit-Only
*Alcohol level based on following Winexpert winemaking instructions.
---
Available February 2020: Pacific Quartet Red – Pacific Rim **SOLD OUT**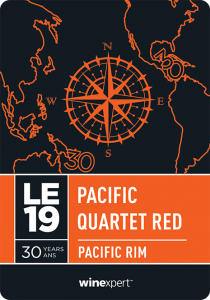 REGION: PASO ROBLES, CALIFORNIA, USA / MAULE VALLEY, CHILE / RIVERLAND, AUSTRALIA / YAKIMA, WASHINGTON, USA ~ The Pacific Rim, encompassed by North and South America on one side and Australia on the other, has microclimates that match those from all over the world. From blazing sunshine to crisp mountain air, and with soils ranging from sandy loam to stony red clay to nearly pure limestone and everything in between, the range and variety provide the perfect terroir for almost any grape, especially those found in this charismatic red blend.
WINE: For our 30th anniversary, we've decided to put a spin on one of Winexpert's most popular Limited Releases ever, introducing Pacific Quartet Red! We've selected the most revered red varietals from the same regions that are featured in Pacific Quartet. Blending California Cab, Chilean Malbec, Australian Shiraz and Washington Merlot and created the most delectable, full bodied wine. The combination results in a well structured, tannic wine with a bouquet of blackberry and cherry. The palate offers rich berry overtones with hints of currant and dark chocolate and a toasty oak finish. Pair with rich meat and bean stews, roasted leg of lamb with rosemary, or aged cheddar.
LE19 PAIRING: Caprese Flank Steak. CLICK HERE for Recipe.
SWEETNESS: Dry   ||   BODY: Medium-Full   ||   OAK: Medium   ||   ALCOHOL: 13.5%*
PRICE: $193.00 On-Premise | $137.00 Kit-Only
*Alcohol level based on following Winexpert winemaking instructions.
---
Available March 2020: YOLO White – California, USA **SOLD OUT**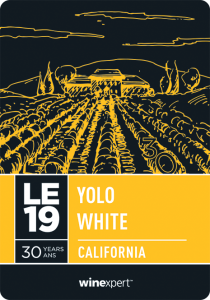 REGION: YOLO COUNTY, CALIFORNIA, USA ~ YOLO is commonly known as an acronym for 'You Only Live Once'; however, the origin of the name Yolo County is believed to come from Native American descent. This county is situated at the northernmost region within the Central Valley in California. Because of the deep and fertile soils found here, Yolo County is largely known for its agriculture, mainly its tomato production. The marine effects from the nearby Sacramento River provide cooler temperatures and the fog that rolls in and out of the vineyards daily, combined with the coastal winds, makes for ideal grape growing conditions. The climate contributes to the concentration of aromatic compounds found in the wines produced in this region.
WINE: Fruit-forward and slightly off-dry, the palate on this wine is inviting and well-balanced. The Chardonnay contributes vibrant green apple and melon flavours. The floral aromatics come from the Muscat, and the Chenin Blanc completes the wine with citrus flavours and high acidity. Pair with mild curry dishes, baked ham, Brie and Camembert cheese.
LE19 PAIRING:  Salmon with Citrus Tarragon Butter. CLICK HERE for Recipe.
SWEETNESS: Off-Dry   ||   BODY: Medium   ||   OAK: None   ||   ALCOHOL: 13%*
PRICE: $193.00 On-Premise | $137.00 Kit-Only
*Alcohol level based on following Winexpert winemaking instructions.
---
Available April 2020: Cape Blend with Grape Skins – South Africa **ONLY 3 KITS AVAILABLE**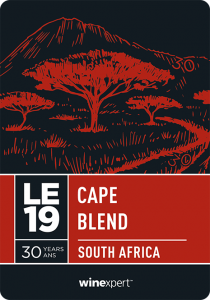 REGION: WORCESTER, SOUTH AFRICA ~ The Worcester region in South Africa is located approximately 100kms from Cape Town, in the Breede River Valley. It is surrounded by majestic mountain ranges and the Breede River runs though the valley on its way to the Indian Ocean. The hot climate and the protection provided by the mountains combine to provide perfect conditions for high-quality, fruitful wines.
WINE: This exciting combination of Shiraz, Cabernet Sauvignon, Pinotage, and Grenache creates a wine that is truly outstanding and worthy of being a part of the 30th anniversary of LE! The dark berry flavours from the Cabernet Sauvignon balance nicely with the forward spiciness from the Shiraz. Pinotage, which is a grape varietal that is unique to South Africa, provides strong tannins and smoky, earthy characteristics while the Grenache contributes aromas of leather and licorice. Together, these elements offer a complex, full bodied wine that pairs well with roasted meats seasoned with marinades or savoury herbs and aged hard cheeses.
LE19 PAIRING: Herbed Pulled Pork. CLICK HERE for Recipe.
SWEETNESS: Dry   ||   BODY: Full   ||   OAK: Medium-Heavy   ||   ALCOHOL: 14%*
PRICE: $209.00 On-Premise | $153.00 Kit-Only
*Alcohol level based on following Winexpert winemaking instructions.
---
Don't Miss Out. Reserve Your LE19 by Pre-Ordering Today:
Pre-order deadline is November 16, 2019
Email: info@itsaboutwine.ca
Phone: 604.465.9988
Come in to the store.
---
What is LE?
Each year Winexpert produces a limited quantity of five fabulous and unique varieties from around the world that are released monthly from December through April. LE – or Limited Edition – wines vary year to year and can be one or a combination of the following: unique blends, hot industry trends, highly sought after regions and vineyards; and scarce or hard to obtain grapes/juice. One thing remains from one year to the next, LE collections always produce wine of superior quality.
LE vintages are available only during the month of their release. They are limited in supply and are so immensely popular that they can be acquired by pre-order only. The LE program has built a reputation of delivering exceptional, award-winning wines year after year after year. This speaks to the high quality wines that these very special wine kits produce and that's why LE continues to be the biggest most successful limited release brand. Each and every year, LE wines are awarded medals at the WineMaker International Amateur Wine Competition; a testament to the superior quality of our LE program. We're confident the 30th anniversary collection of LE19 will continue the award-winning tradition; so be sure to make your wine cellar an award-winning one. Ask It's About Wine! for any further information.