BIG THINGS HAVE UNFOLDED AT WINEXPERTTM
As the leaders in craft winemaking Winexpert wanted to elevate the experience starting from the ground up. They invested in their facilities, innovated their process and reformulated their products creating better quality kits in a new, smaller size.
The new kits require less heat treatment which means better colour, better aroma, and better flavour.
It means better wine.
Winexpert also redesigned their portfolio with a fresh new look and easy-to-shop assortment that offers wine for everyone and every occasion. Our website has been updated! Check out all the new products here: www.itsaboutwine.ca
MEET THE NEW WINEXPERTTM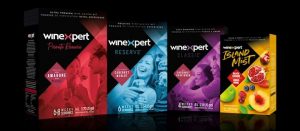 PRIVATE RESERVE – replaces Eclipse. Ultra Premium. Region specific grape juice. Most of the red winemaking kits come with crushed grape skins. Ready in 8 weeks.
RESERVE – replaces Selection. Premium. Country specific juice. Ready in 6 weeks.
CLASSIC – replaces World Vineyard & Vintners Reserve. Easy drinking. Country specific juice. Ready in 4 weeks.
ISLAND MIST – same name, new formulation. Fresh & fruity flavoured wines. Ready in 4 weeks.
When Will These New Products Be Available?
The new wine kits are here now! We have new brochures available and a recommendation chart to help you choose the new wine best matched to your old wine.